Tire Repair Near Me
Do you have a leak in your tire? If so, you may ask, "Can I find a tire repair service near me?" Our team at Tow Truck Near Me can help you locate the nearest store to take care of tire repairs. You can find out more by calling us at 888-311-4796.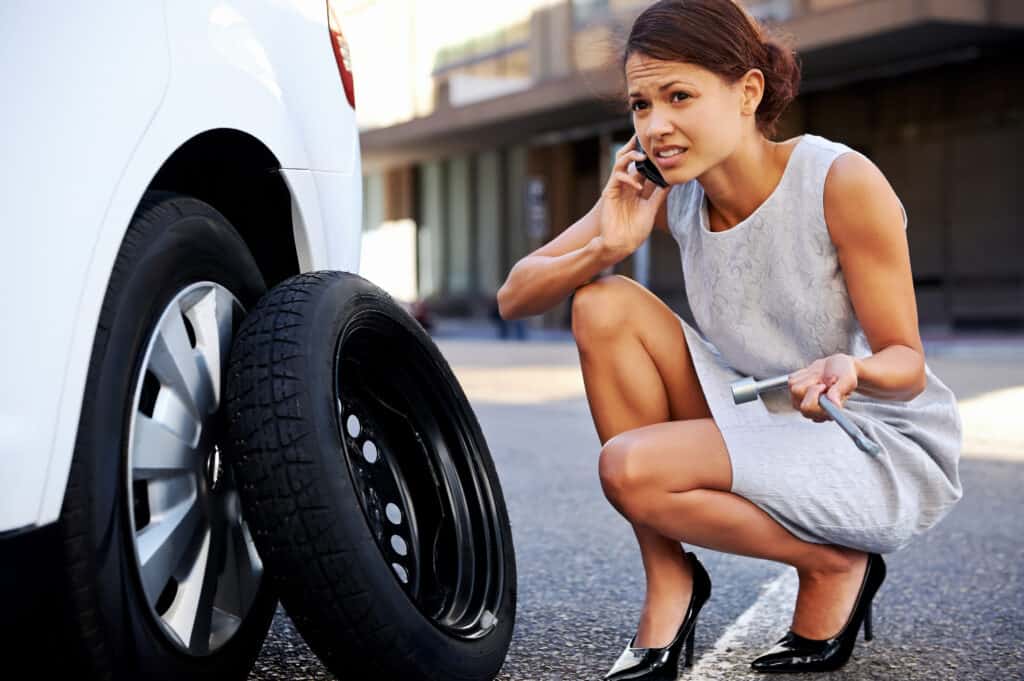 Woman calling for assistance with flat tire on car in the city
Get Back on The Road With Flat Tire Repair
Get assistance, just one call away
A flat tire can prevent your vehicle from operating safely. You rely on your tires to keep your car balanced and to protect your wheels and rims. Driving with flat tires causes more damage to your vehicle. Fortunately, you can work with a local tire repair shop to arrange a tire change. You don't have to run flat tires when you work with tire experts located close to you.
Warning Signs Before A Flat Tire
Sometimes, tires go flat all at once. In other situations, the tire pressure monitoring system may let you know that the tire is losing air. The dashboard indicator light for the TPMS sensor usually looks like a circle, open at the top, with an exclamation point in it. Bulges in your tire sidewalls or damage to the rims may also indicate tire damage. Finally, you can monitor your tire's tread depth. As the tread thins out, you run a higher risk of getting a flat.
What To Do When A Car's Tire Pressure Falls
If you notice your tire pressure light on, you can visit a auto shop to check the tire pressure and add more air. Sometimes, tire air pressure only drops due to temperature changes, and adding more air may resolve your issue.
You can also set up a maintenance service appointment to let your preferred store assess your tires. A tires shop can provide you with maintenance services to extend the life of your tires. The tire repair shop may also suggest that you consider tire replacement.
Ways To Prolong The Life of Your Tires
You can keep your tires in good condition by keeping a repair service appointment schedule. Make sure your tires stay properly inflated, and take your vehicle in to get the tires rotated and balanced on a regular basis. During your maintenance check-up, technicians can also take care of an oil change for you. An oil change can keep your engine in tip-top condition.
However, maintenance only goes so far. You may want to replace a tire after you get a flat. Our team can help you find a replacement shop that offers local pricing.
A repair shop can help you review tire brands and tire pricing so you can get back on the road again quickly.
Find Flat Tire Repair Near Me
You can address damage to your tire right away with tire repair. Tow Truck Near Me helps drivers find maintenance or repair companies that can start work right away while offering you a fair price. You don't have to drive on a flat. Contact us to review your options by calling 888-311-4796.
For those who are asking, "Where is the best tow truck company near me?"